I've been freelancing as a graphic designer since 2004. I live and work in Paris. I am always looking for interesting projects, so if you have any project which will nicely fit my profile, let's talk about it.
Web Design
I do graphic design for the Web and write nice, standards compliant and cross-browser HTML and CSS.
Custom Website Design: WordPress theme or other CMS on demand.
Responsive Web Design (RWD), to provide an optimal viewing experience across a wide range of devices (from desktop computer monitors to mobile phones).
Web graphic standards: GUI for apps, Extranet/Intranet, newsletter templates.
Print & Graphic Communication
I contribute to projects for global communication, publishing or cultural events. My clients are companies, associations or local authorities; I also take on subcontracting work for agencies.
Visual identity: creation of logos, graphic standards, business cards, letterheads, promotional leaflet
Printed media: leaflets,brochures, annual reports, posters, banners, kakemonos, flyers, advertising inserts
Covers and layouts: books, magazines
Resume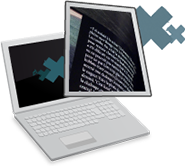 Since 2004

Freelance as a graphic designer

2003-2004

Retoucher at Guy Peellaert's workshop

2002-2003

In charge of digital printing at the Ensad

2003

ENS Louis Lumière
Graduated with a degree in Photography and Image Processing